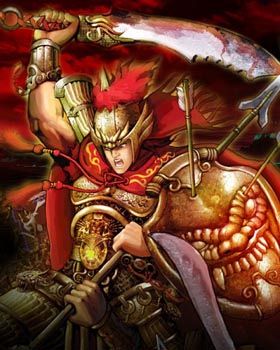 Warrior is one of the five major classes available to players on Conquer Online. The warrior is a rough and ready melee combat class. They are adept in the use of all kinds of weapons and don the heaviest armors of any class. In addition they can employ a shield for additional defense.
Profession
Edit
Warriors start out as Interns and don't graduate as a qualified Warrior until level 15. All Warrior promotions are given by the Warrior God in the Job Center in Twin City. Different levels of profession have different requirements.
WARRIORS

| Level | Promoted Title | Items Required | Promotion Award |
| --- | --- | --- | --- |
| 0 | Intern Warrior | None | N/A |
| 15 | Warrior | None | Learn XP skills |
| 40 | Brass Warrior | None | A lvl 40 Soft Shield |
| 70 | Silver Warrior | 1 Emerald | A lvl 70 Light Armor |
| 100 | Gold Warrior | 1 Meteor | A normal Rainbow Gem |
| 110 | Warrior Master | 1 Moon Box | Super equipment (bound) |
Strength
Edit
Warriors are one of the strongest classes because of there amazing strength. They are the class with the most strength, they start with 6 and every level they get 2 more.
Warrior armor is the heaviest, strongest armor of all. When wearing the right armor, a warrior can soak a lot of damage, allowing him extra time in close combat to pummel his enemies.
The Warrior is the only class that can use a shield. Shields grant a bonus to defense and health, increasing the amount of hits you can take in and reducing the damage you take.
XP skills
Edit
The following XP skills are available to warriors.
Icon
Skill Name
Effects
Character Level Required
Notes
Accuracy
Hit accuracy tripled
15
Shield
Defense tripled
15
Roar
Increase XP bar by 20 for all teammates nearby.
15
Superman
Damage decupled when you are hitting monsters. (2x damage while PKing)
15
Flying Moon
Powerful magic attack.

40.
Community content is available under
CC-BY-SA
unless otherwise noted.