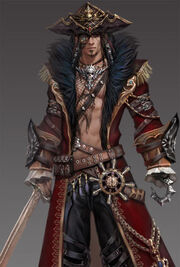 Pirates are coming on their ships; rapiers and pistols are their weapons. Enemies will drop more items if killed by them, and vise versa; However, they will only receive half PK points.
The chances of the items being dropped from inventory will be doubled when Pirates kill someone. But on the other hand, when they get killed, the chances are doubled as well. (Only droppable items can be obtained). Also, they will only get 5 PK points per kill, vice versa.
Profession
Edit
A pirate starts out as Interns and can be promoted by the Pirate Lord in the Job Center of Twin City. A pirate can learn the skill WindStorm in level 5.
PIRATES

| Level | Promoted Title | Items Required | Promotion Award |
| --- | --- | --- | --- |
| 0 | | | |
| 15 | | | |
| 40 | | | |
| 70 | | | |
| 100 | | | |
| 110 | | | |
besides the usual non class specific weapons pirates have two exclusive weaons in the form of the rapier and the pistol this combination of ranged and melee combat makes the pirate a very versatile class    
| Icon | Skill Name | Effects | Character Level Required |
| --- | --- | --- | --- |
| | | | |
| | | | |
| | | | |
| | | | |
| | | | |
| | | | |
| | | | |
| | | | |